MLB 11 The Show hits stores today and we got all the information you need to know about Sony's newest baseball sim. We'll highlight all the new modes and features, show you all the tutorial and gameplay videos, and we'll let you what the reviews are looking like for The Show. This is your one stop shop for everything you need to know about MLB 11 The Show.
Here are a few key features and improvements made for MLB 11 The Show:
Pure Analog Control System (PS3) – The long awaited Pure Analog Controls for The Show have arrived, including analog controls for hitting, pitching, and throwing.  Pure Hitting allows you to stride and swing using the R-stick adding a new dynamic to timing.  Pure Pitching functionality is similar to the Pitch Meter when setting strength and location, but uses the R-stick requiring a bit more concentration when timing your release point.  Pure Throwing uses the R-stick to make throws when on defense.  When fielding the ball, simply point the stick in the direction of the base you'd like to throw towards.  You can also control how hard you throw the ball by how long you hold the R-stick in the desired direction—the longer you hold it in that direction, the harder the ball will be thrown.  This also allows for fake throws to keep runners honest.
Pure Analog Hitting Tutorial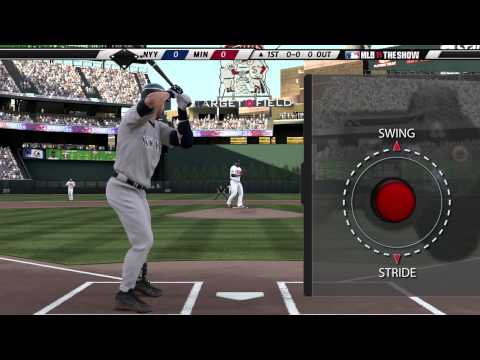 Pure Analog Pitching Tutorial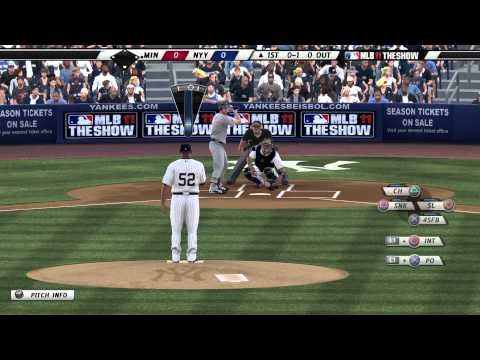 Pure Analog Throwing Tutorial
Co-Op Mode (Online & Offline) (PS3) – Play co-op 1 vs. 2, 2 vs. 2, or 2 vs. CPU, offline or online!  In two-player Co-op mode, players are given different selectable duty sharing options.  Once the user is at the selection screen, they will be able to choose up to four-player involvement with a maximum of two per team. Online Co-op mode allows a maximum of two consoles and up to four players (two per team) to play a head-to-head online game.  The PlayStation®Network (PSN) account used for online game stats and record is the user logged into the XMB and PSN on each console.  Users can also play an unranked co-op game with two players on two different consoles or on the same team versus the CPU.
PlayStation®Move Support (PS3) – Swing for the fences with your PlayStation Move motion controller in MLB 11 The Show, available in Home Run Derby® only.
Challenge of the Week (PS3) – Challenge of the Week is a quick, fast paced, 2-3 minute, one-player, online experience, with leader boards and prizes awarded in three tiers.  There will be one challenge a week and multiple monthly challenges, summing up the points awarded in the four weekly challenges and two semi-annual grand prizes.  Each PSN user will get one free try a week, with each subsequent try having a small fee associated with it—think arcade machine.  Prizes include authentic MLB gear signed by MLB players, like Joe Mauer, as well as ticket packages and Sony electronics.