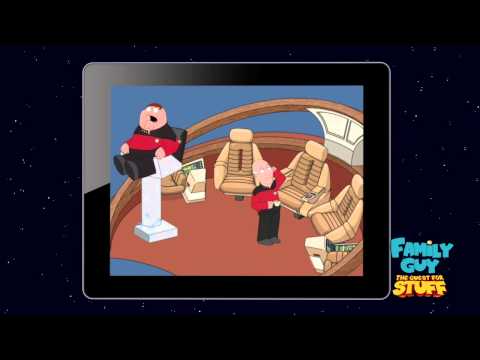 TinyCo and Fox Digital Entertainment announce today that the popular mobile game, FAMILY GUY: The Quest for Stuff, is boldly going where no mobile game has gone before. The Star Trek universe is charting a course straight for Quahog. The citizens of Quahog and the crew of the Enterprise team up for a six week long campaign to save humanity.
Join Commander William Riker as he infiltrates Quahog on a mission to protect Stewie- and humanity- as his future self has created technology that threatens the Borg's existence. Obviously, this doesn't sit well with Borg Bertram and it's up to everyone to work together to ensure nothing happens. With this limited time event, you'll get to visit the Enterprise and other iconic locations from the Star Trek universe. There's even unlockable crew members from The Next Generation including Captain Picard and the one and only Captain James T. Kirk.
You can download FAMILY GUY: The Quest for Stuff for free via the App Store for iOS devices and Google Play for Android devices and Windows Phone 8/8.1, as well as the Amazon Appstore.  The Star Trek limited time event will run from today until April 30th.
[Source: TinyCo]