After the success of the first three Red Faction titles, Red Faction: Battlegrounds released recently to tide fans over until the release of the fourth installment.  However, Battlegrounds takes the series in another direction. Following the recent stream of twin-stick shooters, Battlegrounds is a twin-stick vehicular-combat game that plays more like a party game than other titles in this genre. Featuring nothing that really says Red Faction other than maybe the setting, one wonders how the spinoff will fair.
Battlegrounds' twin-stick combat works well, however, it lacks multiple game modes that we've become accustomed to seeing in downloadable titles. Instead of a campaign, Battlegrounds features a hardy training mode. That being said, the only training aspect to be found here is in the title. Training Mode is far closer to a challenge mode, and the only helpful portion of this mode are the weapon explanations. Beyond this, Training Mode forces you to complete various tasks, none of which are directly applicable to the rest of the game. These tasks contain the usual stuff like "kill these targets," "survival," "racing," and finally, "kill enemy waves."  Despite being less helpful than its name implies, Training Mode is a good change of pace.
When you move on to multiplayer, the game becomes a party game in the same vain as, say, Mario Kart. This works surprisingly well, and can be quite enjoyable. As you play through the game, you will find that every vehicle has its own use, and a big part of multiplayer is knowing what vehicles to use in each situation. The game generally offers a great sense of balance, though in the frenzy of battle, balance can be lost partially due to the fact that most maps are fairly small. Weapons and vehicles provide most of the combat, but occasionally several power ups will appear. These can be as basic as land mines, or more complex, like a black hole. The power up aspect adds to the enjoyment and the party-game feel of the multiplayer.
Though Battlegrounds doesn't have that many modes, it does offer some welcome multiplayer options. You have the option to play offline with friends, or to join up with two more friends online to play against others. This feature is often requested by gamers, yet often ignored by developers, so it is good to see it appear here. The only downside is that if you have a guest playing with you online, your stats are affected negatively. What happens is that they don't seem to count, which causes you to lose experience and kill counts, meaning it's best to play with people you know.
Online play is strictly limited to four players per room. Due to this restriction, modes like Team Deathmatch can be very annoying if you're not in a full room. Sadly, this also means Team Deathmatch is a rare game type. However, there are several other modes to play. Some of these include free-for-all Deathmatch, King of the Hill, Capture the Flag, and Flag Frenzy. Fortunately, the game includes  several different maps to keep the game fresh.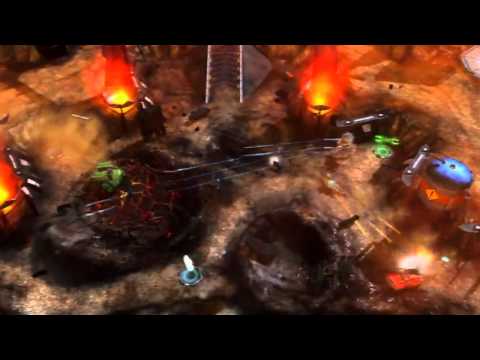 Every map appears to feature different drop rates and its own style. This means the experience is more about knowing the map than mastery of the skills. Some of the bigger maps, for instance, feature far more explosions than others; because of this, if someone triggers the map to regenerate, you can find yourself in a new situation. This can definitely change the pace of the game, and can make playing quite hectic.
In the end, this game is a hoot and a half! Battlegrounds gameplay lends itself as a great party game, and is more about luck than skill. While you may encounter some infrequent glitches like maps not loading or never-ending loading screens, these will most likely be fixed through an update. I would strongly suggest Red Faction: Battlegrounds to anyone looking to just have some fun.
Red Faction: Battlegrounds

Platform: PS3 (Reviewed), Xbox360
Genre: Multi-directional shooter
Release Date: 04/05/11
Developer: THQ
Publisher: THQ
ESRB Rating: E10+
MSRP: $9.99