Announced in January, 2009, the same day as Assassin's Creed 2, Ghost Recon: Future Soldier promised to take gamers into different war zones in the future.  If it was 2009 again, I would have bet that Future Soldier would be out by now.  It has been two full years, and gamers are still left wondering, where is Ghost Recon: Future Soldier?
Online retailers have a variety of release dates for the game, with Amazon listing it as early as March 31st, and Gamestop and Best Buy listing the release date as October 1, 2011.  Walmart does not even give a release date.  What these dates mean is simple: retailers do not have any idea when the game will be released.  They are using an arbitrary date because their systems require one.
On Future Soldier's official forums, UK Forum Manager Lisa Bidder said, "To clarify as I've said before Ubi have not yet confirmed a precise release date, with that in mind consider any information to the contrary to be nothing more than a guess."  When I asked Kimi Matsuzaki, Community Manager, if there were any new details regarding any new gameplay footage or even (wishful thinking) a demo, she kindly responded "no news on either, sorry."
Here is the only game play currently available to us: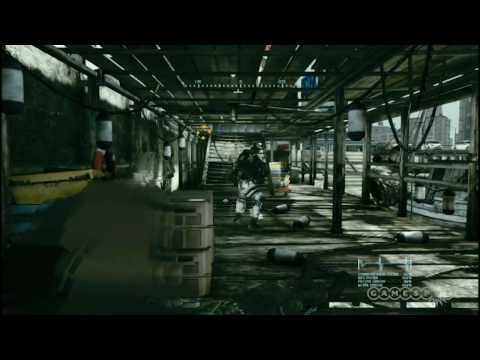 The forums have been buzzing with questions about when the game will be released, and why there have been so many delays.  Many have begun calling it Ghost Recon: Forgotten Soldier.  One commenter said that by the time Ubisoft releases Future Soldier, developers will have to rename it "Modern Warfare."
Ghost Recon did have a very small presence at PAX East at the Ubisoft booth, which is how I met Kimi Matsuzaki. Matsuzaki was walking along the expo floor with the MRB, the gun used in the live-action trailer that was released a year ago and yes, I did ask to hold it.  If someone pre-ordered GR: FS at the Ubisoft booth, you received a t-shirt.  If you had already pre-ordered before the convention, you could show them the pre-order online and receive the shirt.
What might come to mind for many gamers is the comparison to the much delayed Gran Turismo 5.  There is one key difference between the two games however; Polyphony Digital did a fairly good job keeping gamers busy with new information regarding features, screenshots, and new gameplay videos.  Some of the loudest members on the forum are not as upset with the delays as they are with the lack of new information coming from the development team.
Having spoken with Community Developer Kimi Matsuzaki at PAX East, and briefly via Twitter, I accept the delays as necessary to deliver a quality game, but fall short of saying Ubisoft is doing a good job providing the community with information.  Releasing one new gameplay video could go a long way in repairing a strained relationship.
The reason for the delays has also not been made clear.  Gamers are stuck assuming it is because Ubisoft wants to deliver a quality product, but they might want to begin damage control, because many have begun to express quite a bit of agitation with the company. Gamers often threaten to petition and cancel pre-orders, and though that is usually a very small minority, after two years, Ubisoft could be the downfall of an otherwise outstanding game.
The Assassin's Creed franchise is clearly getting more attention from Ubisoft heads, taking a page out of Activision's book and releasing a new iteration yearly.  While it is an exceptional series, I want something different.  I want time to miss the unique style brought by Assassin's Creed.  It has been almost five years since Ghost Recon: Advanced Warfighter 2 hit store shelves, and I have no problem saying I miss it.  Give gamers Future Soldier and they will reward the developer and publisher with their wallets.
Based on what I have observed, there is almost no chance it hits store shelves within the next two or three months, based on the total absence of promotional work done for the game.  One person walking around telling individuals about the game doesn't scream, "Look for Future Soldier soon!"  In fact, it does the opposite.  At best, this game makes a splash late this summer.  If it isn't ready by then, I wouldn't look for it in 2011.  Ubisoft would be committing game suicide by releasing it so close to Battlefield 3, Uncharted 3, and the next Call of Duty just to name a few titles.  Assuming it does not make a summer release, expect it to hit stores early in 2012.
Ghost Recon: Future Soldier is expected to release on the PC, PS3, Xbox 360, Wii, PSP and Nintendo DS.  The PSP, DS, and Wii versions will follow different storylines.  Ubisoft is expected to release GR: FS on . . . I don't know, but you probably have time to solve the Hodge conjecture before you ever get to use optical camo.  If any new information is released regarding the release date, Vivid Gamer will be on top of it.  I hope Ubisoft makes me eat my own words, but until then, happy waiting!
[Sources: Gamespot Youtube Trailer, Official Forums]