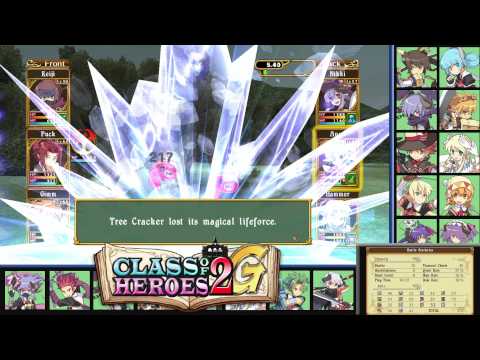 As the final touches and testing phase are taken care of for upcoming dungeon-crawler RPG Class of Heroes 2G, Gaijinworks has put up a poll to gauge the interest of a physical copy of the title. You might recall that this was what they had done with the previous Class of Heroes entry. If the goal of 7,000 pledges is achieved, a direct-to-customer pre-sale will be opened for all to purchase their copy.
Class of Heroes 2G is the PlayStation 3 remake of last year's Class of Heroes 2 complete with some new features. Gamers will find new art, dungeons, weather effects, and characters. What really stands out is the the ability to use your PSP or Vita as a second screen to control your party as well as view additional information. Though Class of Heroes 2G is not the first game to implement this feature, it is the first RPG for the PlayStation 3 to do so.
Be sure to visit the official website to sign up and show your support for a limited one-time print run of Class of Heroes 2G. The poll will run for roughly 30 days. The pre-sale will likely go live not long after the poll is closed. The physical copy will include the game disc, color manual, full color reversible cover insert as well as a serial numbered hologram. Price is set at $39.99 plus $4 shipping for North America. International buyers will need to add an extra $10 for regular shipping. It should be noted that Gaijinworks is looking into offering an express courier option for an additional fee.
Stay tuned as we keep you posted on Class of Heroes 2G.
[Source: Gaijinworks]